We are extremely proud of our Christian ethos and the strong relationships within our school that reflect these values.
"All adults and pupils respect each other, are cared for and nurtured to reach their full potential. All members of the school community are aware of these values and recognise their impact within a rich curriculum and the outstanding educational provision at this school. " taken from our 'Outstanding' SIAMS report March 2015.
Home Learning Easter Activity - Follow this link to download a pack which offers children and their families new and creative ways to engage with the story of Holy Week and Easter at home.
The Worship Team 2021 - 2022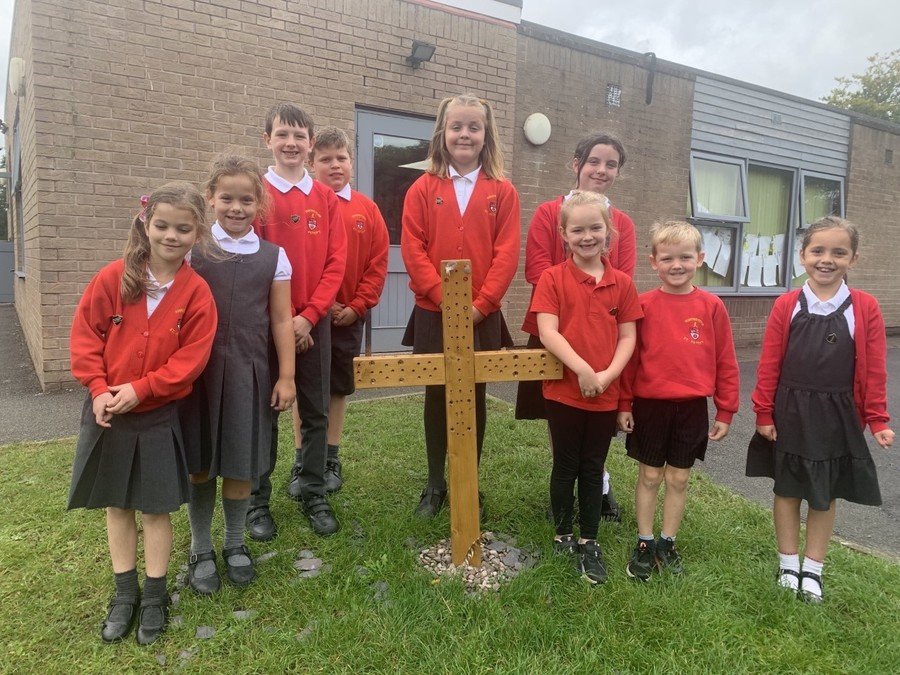 Our Worship team assist with the planning of Worship themes, they help during daily Worship and set up the weekly reflection table in school. They take ownership of the Worship 'big book' and contribute to the self-evaluation and monitoring of Worship in School. However, this is not a role specifically allocated to them - every child in school is encouraged to get involved.
Year 4 children planning Worship with Rev'd Sue
We work together as a Christian family evaluating Worship and we love to put our thoughts and opinions down in the the Worship 'Reflection' Book
Our Children thrive on leading Worship
Some of our Year 5 and 6 children planned and led Worship on the importance of Rules. They explored the British Values of 'Rule of Law' and 'Individual Liberty' linked to current events and gave thoughtful and respectful responses to everyone's different opinions and attitudes. They linked this to our school rules and vision as well as God's law and the 10 commandments.
One of our Year 5 girls led Worship based around 'Forgiveness' at the start of Lent.
Worship Councillors' Quotes
"I wanted to be on worship council because i wanted to become a better Christian."
"I am looking forward to reading prayers and assisting in worship."
"I am looking forward to helping out with praise and worship in school."
"I want to help all the children in school to become stronger in their faith."
Stop Press!!! We have an important announcement! This week we have been involved in a very special duty... interviewing for the new Priest in charge of St Peter's and St John's. It all began with an interview meeting, joining with the children of Read St John's. We decided what we would like our new Vicar to be like and carefully selected appropriate questions to ask. Then we interviewed the candidates at Read St John's school. Our viewpoints were discussed and shared with the interview panel. The Bishop of Burnley was there to hear our ideas and views. We have truly flourished as worship leaders and feel part of our church community. We will remember this experience for a very long time and can't wait to find out who our new Vicar is... Watch this space. The Worship Council Sept 2021
The Lord is my ROCK! Performed by all the children in worship!
In Worship we enjoy working together...
RE Conferences run by Blackburn Diocese
Our recent visit to RE Conference - learning about The New King, The Rescuing King and The Forever King! Understanding the true meaning of Christmas. Our Worship leaders were a credit to school and shared their ideas with other schools!
Working together as a Christian Family to achieve our best, learning with confidence to fulfil our dreams.
We have enjoyed taking part in the RE conferences at Whalley Abbey with our cluster schools.
Our RE displays around school are magnificent!